Kenny Wayne Shepherd Band – Straight To You Live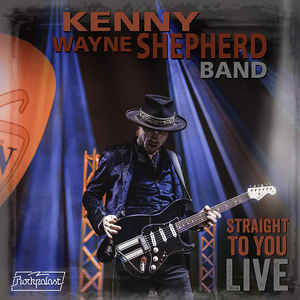 Kenny Wayne Shepherd Band
Straight To You Live
Provogue
Review by Greg Johnson 
During this time of COVID and the lack of being able to attend live events on this scale, the Kenny Wayne Shepherd Band releases this much-needed live performance on both audio and video formats. Taken from a live set at Germany's Leverkusen Jazzstage in 2019, he captures the band at full dynamic strength, easily displaying why they have been one of the most appreciated live concerts going. The band starts out on fire and just becomes more incendiary as the performance progresses. 
 Shepherd may be front and center with his guitar prowess that absolutely shakes the stage throughout one song after the other, but he is backed by a tight-knit group that complements one another as one cohesive unit to perfection. Chris Layton on drums, Joe Krown on keys, Scott Nelson on bass, with saxophonist Joe Sublett and trumpet player Mark Pender rounding out the instrumentation. And then there is Shepherd's ever-present, longtime partner Noah Hunt on lead vocals, which he often hands over to Shepherd or they work as a vocal tandem, sharing words on the same song. It has been a masterful pairing that continues to get stronger with every release or performance. 
Recorded during the tour promoting their last release, The Traveler, the band delivers stunning interpretations of some of their best material from that disc such as "Woman Like You," "Long Time Running" and his covers of Joe Walsh's "Turn To Stone" and Neil Young's "Mr. Soul." There are also older classics from earlier discs, such as "Shame, Shame, Shame," "Diamonds & Gold," "Blue On Black" and "Heat of The Sun" that drive the intensity of the show ever upward. 
The concert also puts together some terrific takes of well-known covers that stretch the band into overdrive: Elmore James' "Talk To Me Baby," Slim Harpo's "I'm a King Bee" and the closing dynamo of Jimi Hendrix's "Voodoo Child (Slight Return)," giving Shepherd one more opportunity to set off guitar fireworks before ending the night. 
For those missing out on large-scale live events, having this recording will surely hold you temporarily smiling, at least until we can experience the real thing again. Straight To You is without doubt a sensational live presentation of a band that continues to amaze us every time out. Check it out now! 
Total Time: 1:10:27 
Woman Like You / Mr. Soul / Long Time Running / I Want You / Diamonds & Gold / Talk to Me Baby / Heat of the Sun / Down for Love / Shame, Shame, Shame / Turn to Stone / Blue On Black / I'm a King Bee / Voodoo Child (Slight Return)  
https://cascadebluesassociation.org/wp-content/uploads/2021/01/Kenny-Wayne-Shepherd-CD-cover.jpg
300
300
Shelley Garrett
https://cascadebluesassociation.org/wp-content/uploads/2020/10/CBA_Logo_top_main.png
Shelley Garrett
2021-01-04 17:12:05
2021-01-04 17:15:02
Kenny Wayne Shepherd Band – Straight To You Live