Ole Frimer Band – Live in Eppingen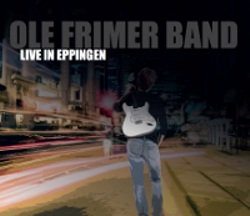 Ole Frimer Band
Live in Eppingen
Katti Records 
Review by Randy Murphy 
I listen to a lot of new music, and most of it is fine, solid blues and blues rock produced by musicians dedicated to keeping blues-oriented music alive and culturally relevant. I will admit, however, that it takes quite a stirring album for me to think–yeah, I'd buy this. The Ole Frimer Band's new release, "Live in Eppingen" fits that bill dead on. The fact that these guys hail from Denmark (not Denmark, Oregon—the other Denmark) makes this recording all the more remarkable since it testifies to the lasting power of blues rock to pick up sticks, move to Europe, and not miss a (guitar) lick. 
My own blues prejudices lean toward the traditional, so it's difficult for more rock orientated blues bands to gain traction with me, but when the music's this compelling and so well preformed and of such high quality, there's no chance it wouldn't win me over. Ole Frimer supplies the guitar and lead vocals, and his band mates, Niels Ole Thorning on keyboard and organ, Jesper Bylling on bass and Claus Daugaard on drums (Bylling and Daugaard also supply backing vocals) are a tight little outfit equally at home with a bit of straight-ahead rock ("Sheltered Roads"), lethal blues ballads ("Single City"), or boogie-infused madness ("Got A Mind To Travel"). These are all ace musicians, and while there's not a clunker cut on the album, the highlight is their rendition of Eric Clapton and Robert Cray's tasty "Old Love." The whole band shines on this classic blues number, particularly Thorning's subtle, soulful piano handiwork, which is some of the finest, most sensitive playing I've heard on a blues album in quite a while. Bravo! 
This is just one terrific record I recommend highly—it's a keeper–and yeah, I'd buy it. You should too. 
Total Time: 49:10 
The Clearing / Sheltered Roads / The Blues is Here to Stay / Why Are You Stayin' / Single City / Old love / Got A Mind to Travel / Brush with the Blues 
https://cascadebluesassociation.org/wp-content/uploads/2021/01/Ole-Frimmer-Band-CD-cover.jpg
216
250
Shelley Garrett
https://cascadebluesassociation.org/wp-content/uploads/2020/10/CBA_Logo_top_main.png
Shelley Garrett
2021-01-04 17:09:11
2021-01-04 17:20:46
Ole Frimer Band – Live in Eppingen