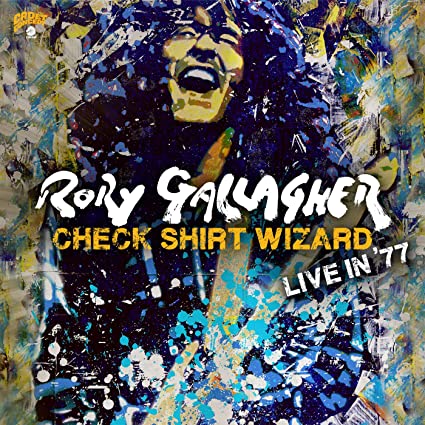 Check Shirt Wizard – Live In '77
Universal Music Operations 
"Check Shirt Wizard" – Live In '77 is a two-disc compilation from four Rory Gallagher shows in England during the 1977 tour celebrating the then-current release of the "Calling Card" album. Twenty tracks, many from "Calling Card" as well as his previous release, "Against The Grain," that showcase exceptional performances filled with his pyrotechnic rock and blues guitar work.  
Rory Gallagher was perhaps the finest blues-rock guitarist to ever emerge from Ireland, if not from all of Great Britain. For those who may not be overly familiar with this claim, imagine the reverence that Americans give to Stevie Ray Vaughan. It is a like comparison not only in popularity, but also in guitar prowess and stage presence. Not to mention that the world lost both way too early. 
The first half of these performances deals with an electric approach, with tracks like "Moonchild," "Tattoo'd Lady" and "A Million Miles Away." But maybe it's his ease with an acoustic guitar that really showcases his blues direction. A master slide player who doesn't lose any of the power unplugged on a number like his cover of JB Hutto's "Too Much Alcohol" or straight-on picking with Blind Boy Fuller's "Pistol Slapper Blues" can surely attest to that ease. He even throws down on mandolin for "Going To My Hometown." After a handful of acoustic pieces, he returns to the electric mode to build up the energy right to the show's close, including "Souped-Up Ford," "Bullfrog Blues" and the night-capping "Country Mile." 
Rory Gallagher was a force to be reckoned with onstage. Never a drop of intensity throughout the entirety of this collection, start to finish. This is Rory Gallagher where he thrived, in front of an audience. 
"Check Shirt Wizard" follows on the heels of the 2019 three-disc release "Blues" (also from Universal Music Operations), which also made available rare and previously unreleased live tracks from throughout his career. Put together, they make a terrific combination of just how powerful this man was in a live setting and how much he has been missed since his untimely passing. As live recordings go, this one is a definite keeper! 
by Greg Johnson 
Total Time: 2:01:32 
Do You Read Me / Moonchild / Bought And Sold / Calling Card / Secret Agent / Tattoo'd Lady / A Million Miles Away / I Take What I want / Walk On Hot Coals / Out On the Western Plain / Barley & Grape Rag / Pistol Slapper Blues / Too Much Alcohol / Going To My Hometown / Edged In Blue / Jack-Knife Beat / Souped-Up Ford / Bullfrog Blues / Used To Be / Country Mile 
https://cascadebluesassociation.org/wp-content/uploads/2020/05/Rory-Gallagher-cover.jpg
425
425
Shelley Garrett
https://cascadebluesassociation.org/wp-content/uploads/2020/10/CBA_Logo_top_main.png
Shelley Garrett
2020-05-31 17:28:39
2020-06-27 12:52:00
Rory Gallagher