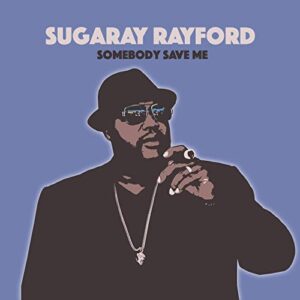 Somebody Save Me
Forty Below Records
By Randy Murphy
With a voice that swings with ease between delicate and muscular and a stage presence even God envies, Sugaray Rayford is the consummate entertainer. In his live shows, Rayford burns through enough energy to power a small city, but as with any dynamic performer, bottling the vigor and fire of those live performances in a studio setting is always a challenge — but happily one Rayford and his musical compadres overcome in their new release Somebody Save Me.
A roster of talented musicians support Rayford on this recording, including Mavis Staples' veteran guitarist Rick Holmstrom and Dwight Yoakam's bassist Taras Prodaniuk. Mix in keyboardist Sasha Smith, drummer Matt Tecu, guitarist Eamon Ryland, and a deadly horn section with Southside Johnny and the Asbury Jukes' doyens Mark Pender and Richard Rosenberg and you have a dazzling ensemble that measures up to Rayford's vocals, note for note.
Any great singer needs great songs, and here Eric Corne, who also produced, supplies terrific tunes that showcase Rayford's vocal range and variety of styles — from straight-ahead blues rock to delicious soul to some filthy funk. There are no duds on this album, but three songs stand out: "My Cards Are On The Table" is a soul-infused ballad that echoes Teddy Pendergrass and includes some luscious guitar playing courtesy of Mr. Holmstrom. Likewise, the album's opening cut, "The Revelator," furnishes a heady concoction of groovy, bluesy funk enlivened with Mark Pender's silvery trumpet rifts. But apart from the superb musicianship on this album, there's also a call to political civility in "Time to Get Movin'" — a sizzling, up-tempo stomp where Rayford pleads for an end to the strife that infects our decaying society and politics. This tune strikes with weight and force, both lyrically and musically, and is a splendid touchstone for effectively breathing political issues into one's music. If "Time to Get Movin'" troubles you, good — that's its intent.
This release is available on vinyl (hooray) and includes a digital download offer, but no matter the medium — miss this album at your peril.
Total Time 40:57
The Revelator / Time To Get Movin' / You And I / My Cards Are On The Table / I'd Kill For You, Honey / Angels And Devils / Sometimes You Get The Bear (And Sometimes The Bear Gets You) / Somebody Save Me / Is It Just Me / Dark Night Of The Soul
https://cascadebluesassociation.org/wp-content/uploads/2019/07/Sugaray-Rayford-CD-cover.jpg
500
500
Greg Johnson
https://cascadebluesassociation.org/wp-content/uploads/2020/10/CBA_Logo_top_main.png
Greg Johnson
2019-07-26 20:22:55
2019-08-19 11:26:55
Sugaray Rayford