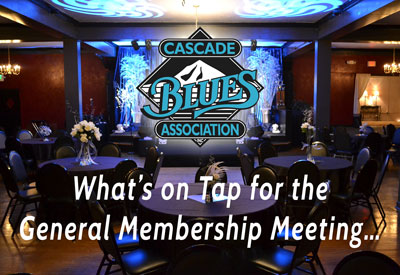 Melody Ballroom, 615 SE Alder Str., Portland
Wednesday, April 5 – 7:00 pm
Members always Free – Non-members $5.00
Opening Set – Louis Creed & One Geezer
Second Set – Cary Fly Band
For our April General Membership Meeting, the Cascade Blues Association is proud to present once again two acts coming from out of town to perform for us. They will include a familiar face, a long-time act who has not played for us for many years, and a fresh new young artist to keep an eye on.
Opening the night will be Louis Creed & One Geezer. Usually working as a full-sized band, the outfit has been trimmed down to a duo to play the meeting's first set. Louis Creed just turned 21, but has been proving his skills up and down the Willamette River with a number of big time gigs that partner William "Froggy" Hyland deemed as an extensive hot dog and pizza tour.
"Louis Creed is the future of the blues," cites grizzled IBC veteran and multi-instrumentalist Froggy. "He was about ten years old and listening to Black Sabbath when I started the legendary Calapooia Blues Jam and his mom put him on the sign-up sheet. His name finally came up last year and we started to have us some big fun."
Creed will be driving up to "The Big City" with Froggy providing some "adult supervision" for a not very acoustic set like you've never heard before. Time for some new blood and some old blues. Check them out!
Spokane-based The Cary Fly Band last played for the Cascade Blues Association about 11 years ago and a lot has changed during those years. Working hard with an almost completely different song list, the Cary Fly Band is not always considered "just a blues band," and are capable of playing just about any genre of music.
Singer, songwriter and guitarist Cary Fly is the undisputed leader of the band. He commands the stage at every moment of the performance. Playing since the mid-1950s, he has played with the likes of Roy Clark, Buck Owens, and Waylong Jennings, been a member of well-known bands like Journey, Sugarloaf, Anaconda, and others, and has written more than 5,000 songs in his career. He has been a staple on the Northwest scene for more than forty years.
The band for the meeting will also include (former CBA Board Member) Jerry Fiddler, on Mandolin and vocals, who has been involved with music for almost 60 years. Drummer Michael Hays, who has previously worked with the Sammy Eubanks Band and The Fat Tones.  drums, adds a very nice touch/sound to the band.
Don't miss out on the Cary Fly Band. This is a very energetic band that will have you dancing from the beginning.
We still have no word from The Melody Ballroom on our future status in the room. So as the manager has told us to do, we will keep on looking forward to meeting at this location until notified otherwise. Remember, to pick up your free drawing ticket as you enter at the door and we'll also have the winner-take all multi-CD drawing for a $1.00 per chance ticket. This night is looking to be an exciting time, so make a point of joining us and all of your blues loving friends for the meeting. See you there!
https://cascadebluesassociation.org/wp-content/uploads/2017/03/whats-on-tap.jpg
275
400
Wendy Schumer
https://cascadebluesassociation.org/wp-content/uploads/2020/10/CBA_Logo_top_main.png
Wendy Schumer
2017-03-22 21:20:26
2017-03-24 11:58:48
What's on Tap for April's General Membership Meeting…